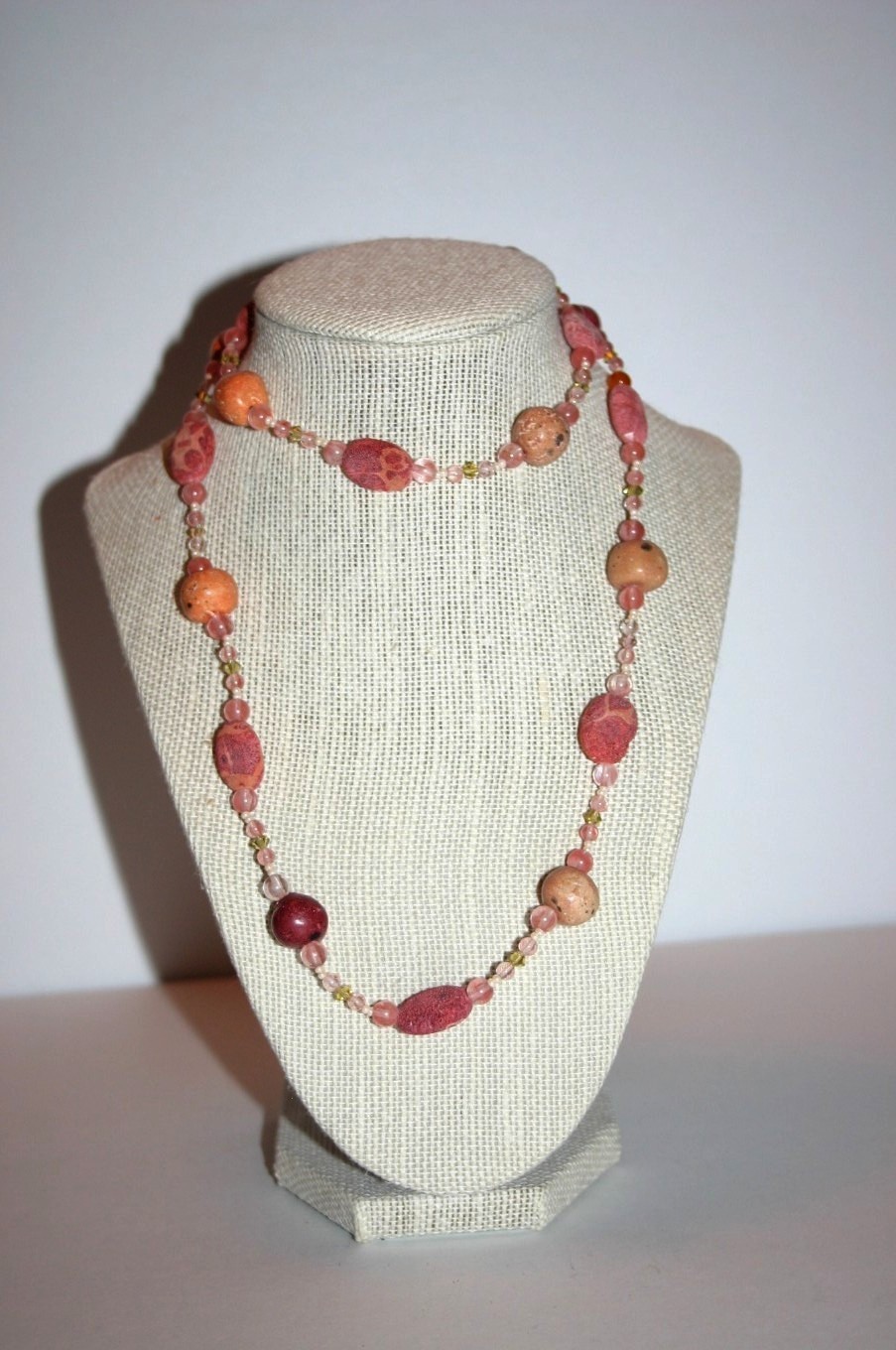 Unique ceramic purple/blue
beads, enhanced with rainbow glass beads with blue and purple tones accented with a unique pink/ purple agate sterling silver pendant.
#128 Cost: $55.00
Fancy green jasper unusually shaped stones accented with smaller agate stones, brownish Swavorski crystals and nuggets of similar colors that create an unusual abstract necklace.
#130 Cost: $65.00
Purple botswana agate rovals and small purple rondelles with seed beads create a lovely smart necklace.
#131 Cost: $45.00
A lovely delicate necklace with purple/blue agate rounds, and multicolor small round matching beads accentuated with a sterling silver centerpiece from which hang small colored beads with purple crystals.
#132 Cost $60.00
Pretty and pink quartz stones highlighted with pink agate beads and nuggets adorned with a sterling silver centerpiece from which hang delicate pink
small spear shaped stones.
#133 Cost: $ 60.00
Pink/orange ceramic round beads with matching oval coral stones, small round agate beads and golden Swarvoski crystals create a unique necklace that can be worn short at a short or long length.
#129 Cost: $50.00
White agate large and small rounds highlighted with clear Swavorski crystals create a lovely looking necklace.
#135 Cost: $40.00
Pink opal oval beads and pink and golden agate rounds beads with Swavorski pink crystals that create a unique piece accented with a pink agate pendant.
#134 Cost: $55.00