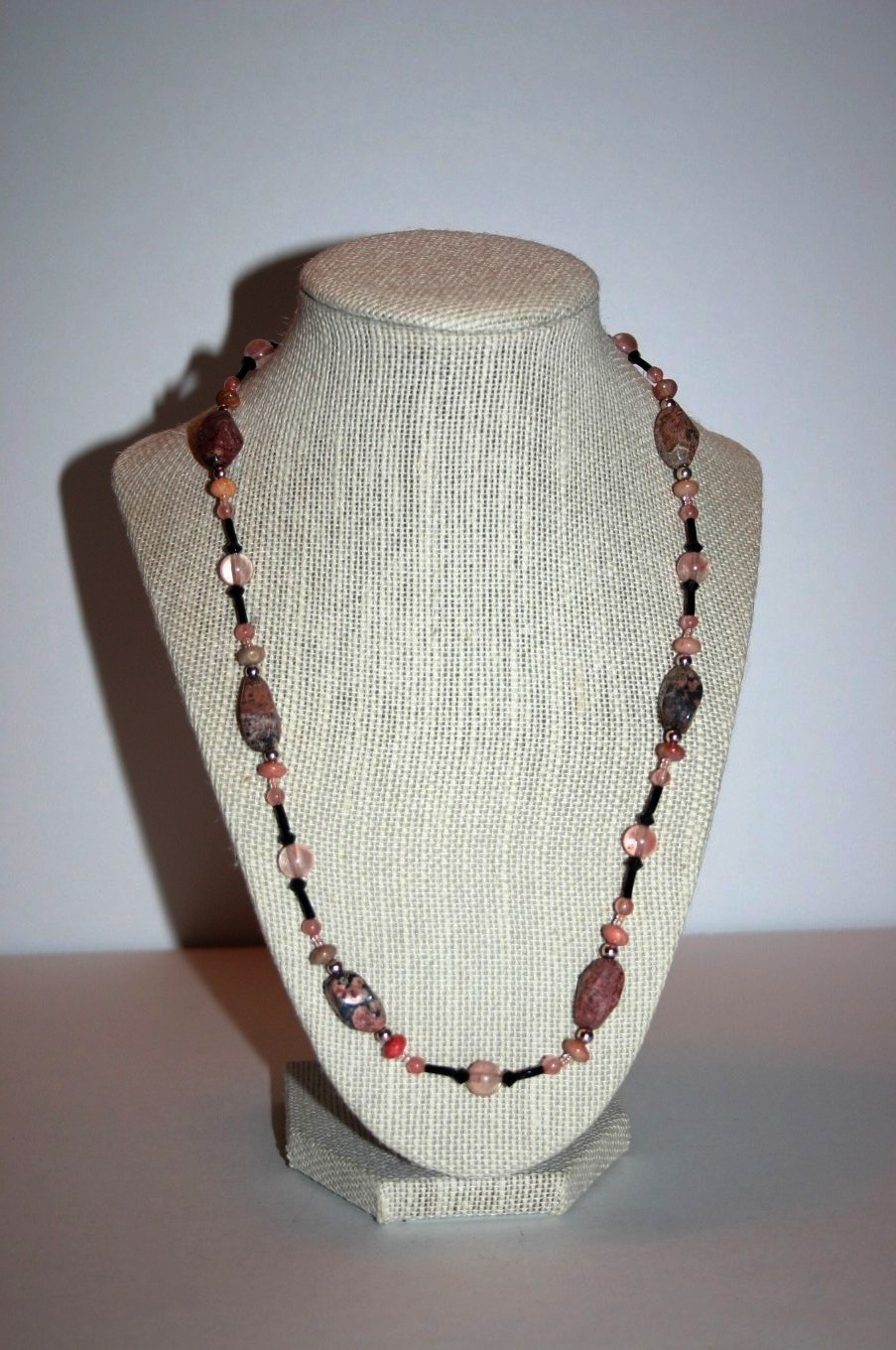 Turquoise and brown teardrop glass stones accented with aqua agate rounds, brown stone cubed beads, aqua Swarovksi crystals and aqua glass rondelles, with a beautiful turquoise druzy agate teardrop pendant.
#139 Cost $55.00
Pink opal beads and highlighted with pink opal and golden, pink and clear quartz beads and accented with large and small pink Swavorski crystals and a unique copper pink pendant.
#143 Cost: $55.00
.
White nugget pearls & blue Swarvoski crystals hang on a sterling silver chain with a sterling silver spacer from which hang three strands of blue agate almost heart shape beads enhanced with crystals and beads. Made to order.
#142 Cost: $150.00
Pink round ceramic nuggets highlighted with smaller pink beads rounds, long beads and pink Swarvoski crystals accented with a unique pink agate pendant.
#140 Cost: $65.00
Aqua amazonite rounds accented with aqua nuggets, glass aqua rondelles, Swavorski aqua crystals highlighted with a beautiful flower shape aqua agate pendant.
#141 Cost: $65.00
Large golden brown round agate ovals accented with golden, white and ywllow round agates, aqua agate nuggets, Swarvoski golden and gray crystals highlighted with a golden, olive green, and gray/brown speckle ocean jasper teardrop pendant.
#144 Cost: $65.00
Leopardskin jasper ovals are accented with pink quartz rounds, pink rondelles, sterling silver rounds and seed beads, black bugle beads and black Swavorski crystals.
Lovely golden brown patterned agate ovals with aqua hemimorphite aqua ovals accented with aqua Svarovski aqua crystals and seed beads.
#137 Cost: $45.00